Tips for Chicago Marathon
I've run the Chicago Marathon twice, and let me tell you, it's an experience like no other. Flat course, fantastic city vibe, and crowds cheering you on from start to finish. What sets Chicago apart is its spirit, exemplified in traditions like the raucous cheer zones in Boystown (Mile 9) or the mariachi bands in Pilsen around Mile 19 or the incredible drumming performances in Chinatown (Mile 21). These moments offer more than just a brief respite from your exertion, they fuel your soul, propel you forward, and remind you why you fell in love with running in the first place.
So, based on my own experiences, here are some tips to help you make the most of it.
1. Hit the Expo Early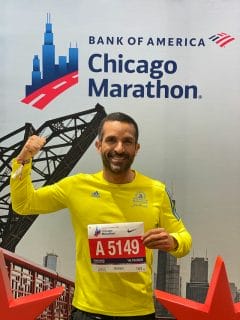 Try to visit the Expo on Friday, two days before the race. Trust me, the place is huge, and you'll need almost half a day just to pick up your bib. You might think walking around an expo isn't tiring, but for some reason, it wears me out more than a short run. The day before a marathon is a crucial time for rest and preparation. Walking around too much can be counterproductive. Don't forget to take the picture with your Bib at the expo.
2. It's very important to do the "shakeout run." The day before the race (no more than 30 min run or 3 miles)
Why Should You Do a Shakeout Run?
Muscle Activation: A short, low-intensity run will help keep your muscles engaged without wearing you out. You'll feel less stiff and more prepared on the big day.
Mental Preparation: Use this quiet time to mentally prepare for what lies ahead. I recommend running alone so you can focus solely on yourself. Don't set an alarm.
System Check: This is also the time to give your gear a final test. Make sure your shoes, socks, and attire are comfy for race day.
Running alone allows you to truly focus on yourself. It eliminates the stress of setting an alarm to meet up with a large group, enabling you to be as relaxed as possible. Instead of conforming to a group schedule, run when your body naturally feels ready. You might be thinking, 'Lucho, aren't you exaggerating a bit?' Not at all! While I'm usually the first to join a group of runners, I can say from experience that running alone makes a difference. The day before the marathon should be about achieving a state of incredible peace and zero stress.
3. Beat the Clock: Why Arriving Early to Grant Park Can Make or Break Your Marathon Experience
Try to get to Grant Park at least an hour before the race kicks off. With security lines to navigate just to enter the area, the last thing you want is to be rushed. Picture this: you're running late, you've got a queue to wait in, and you desperately need a restroom. Starting a marathon stressed is far from ideal—why let 16 weeks of dedicated training go to waste over poor timing? Make every effort to ensure you're calm and collected on the big day.
4. Start Slow, Finish Strong
Between the electrifying atmosphere, the resounding cheers from the crowd, and likely pleasant weather, you'll feel unstoppable in the first 8 miles. You're running through downtown Chicago, surrounded by a sea of people — it's easy to run faster than you planned to do. However, it's crucial to stick to the strategy you or your coach have devised. Keep in mind that the marathon doesn't truly begin until you hit mile 20. Start off conservatively, 10-15 seconds slower than your intended pace for the initial 2-3 miles, then gradually shift into your planned race pace. Chicago's flat course and it is perfect for a huge PR, but you've got to play it smart. Don't make the mistake I made in 2019 by burning out too early; conserve your energy for the final stretch.
Anecdote: When I ran the Chicago Marathon in 2019, the conditions was perfect. I felt incredibly comfortable and ended up running 15 seconds faster than I'd planned per mile. The outcome? By mile 18, I was already regretting the way I started. But I suffered a lot the last few miles, I trained to do 10 min PR and I went out to do 15 min PR Lol, I think we've all been through that. In the end I was able to do 3 min PR. It is always good to train for huge PR because even if you fail, you still improve something.
5. Don't Trust the GPS
Your GPS will likely lose its signal several times during the race, particularly between miles 2-5 and 8-12. You might be running at a pace of 7:30 min/mi, but the watch could indicate that you're going at 10 min/mi. Don't despair; try to maintain a constant pace. What I recommend is writing your target times for each 10k on your forearm with a marker. For example, if you aim to finish the marathon in 3:30, you should complete each 10k in 49:50 or the half-marathon in 1:45:00. This is the best way to guide yourself, especially because the watch frequently loses its signal, making the average pace it displays during the race unreliable.
6. Hydration Hacks: Beat the Crowd and Stay Fueled from Start to Finish
Approximately 45,000 people participate in the Marathon Majors, so it's highly likely you'll be running amidst a crowd for the first 3-5 miles. Imagine how challenging it would be to grab water at the first "water station"; with so many people trying to hydrate at the same time and place, you might have to stop to get your water. And it's crucial to stay hydrated at regular intervals. Carrying a small 8oz bottle can be a lifesaver. It will likely last you until mile 6 (10k), at which point you can dispose of it (preferably at a water station) and continue on. This approach spares you the stress of competing for water with the crowd. I usually add electrolytes to this water—the same kind I use during my workouts.

7. Finish with Heart
Once you hit mile 24 on Michigan Ave, it's a straight shot to the finish line. At this point, run with everything you've got—run with your heart.
8. Smile for the Camera
You need to hit mile 23 like a pro runner, because there are cameras everywhere. A marathon is an unforgettable experience, and there's nothing better than having a great photo to remember it by. So, when you see the red carpet on the ground, think of this blog, lift up your face, and smile.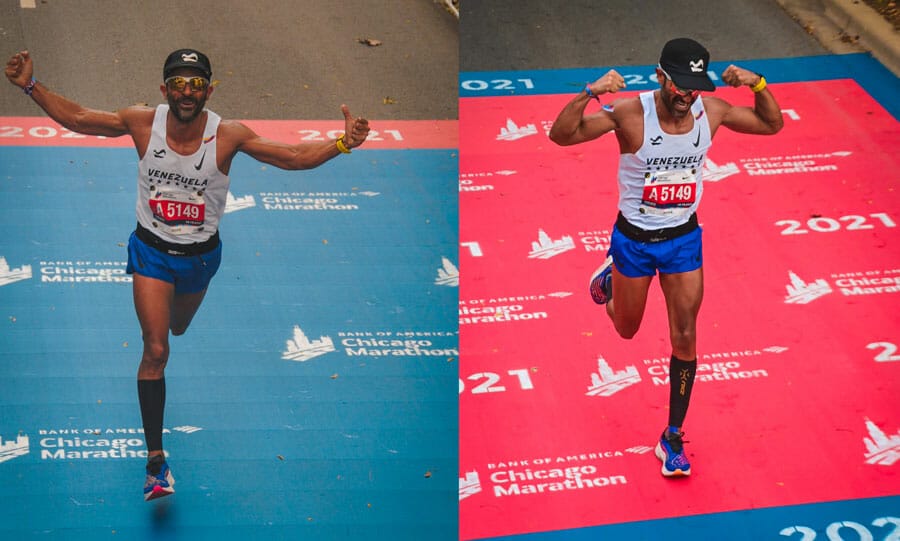 Special TIP: After crossing the marathon finish line, the first things on our minds are usually to celebrate and catch up with friends. But let's be real—food is also a top priority! My pro tip for you is to make a reservation at Gionino's Pizza 🤣  right after the race. Trust me, if you don't book in advance, you'll find it nearly impossible to get a table anywhere; places fill up fast Lol
Wish you all the best in the best marathon – Chicago Marathon. May the force be with you guys!